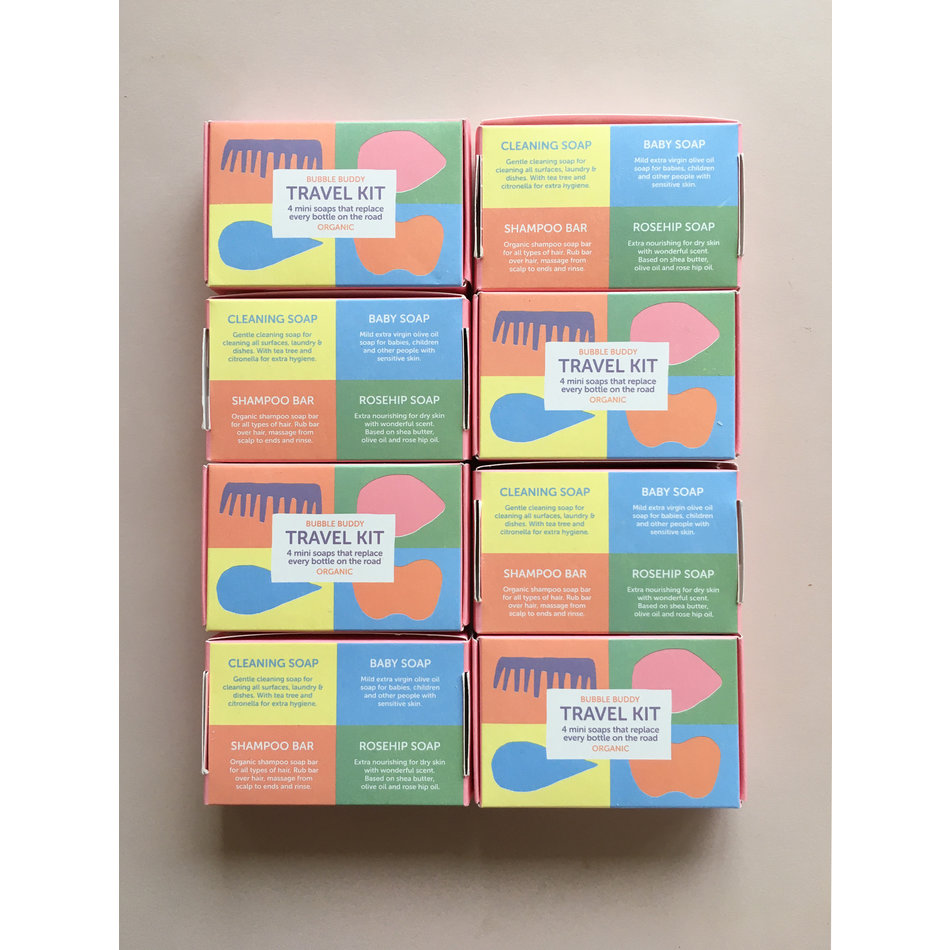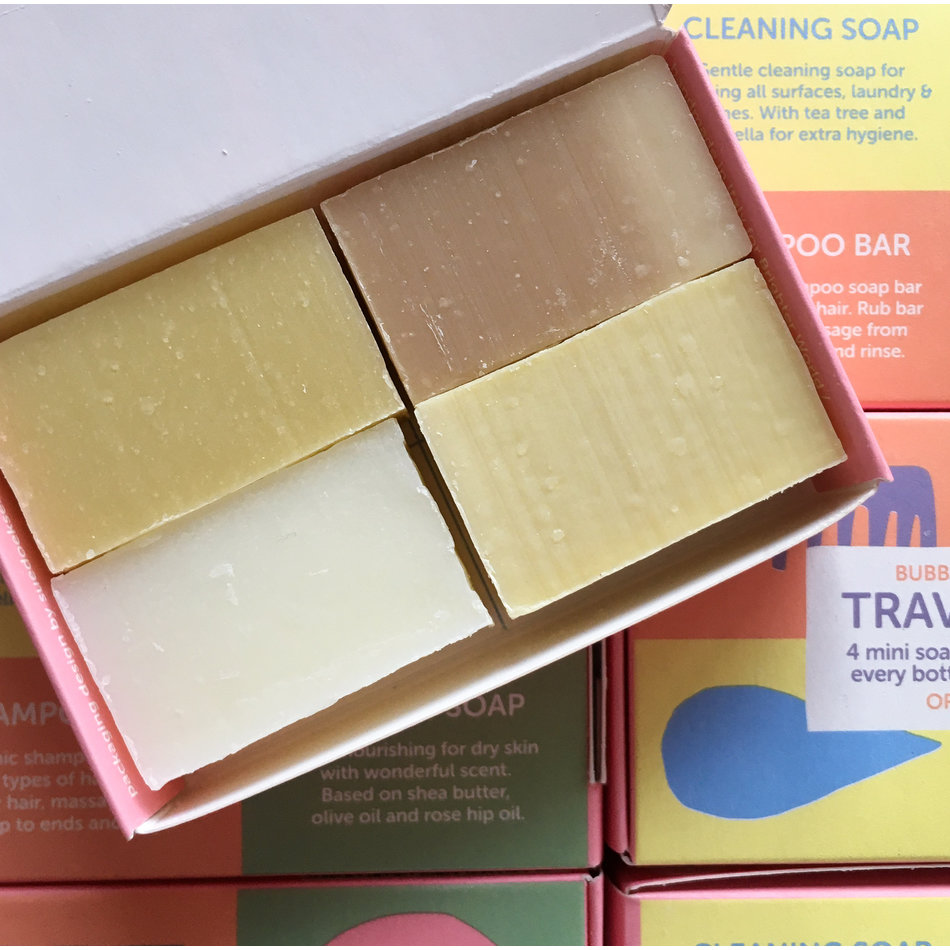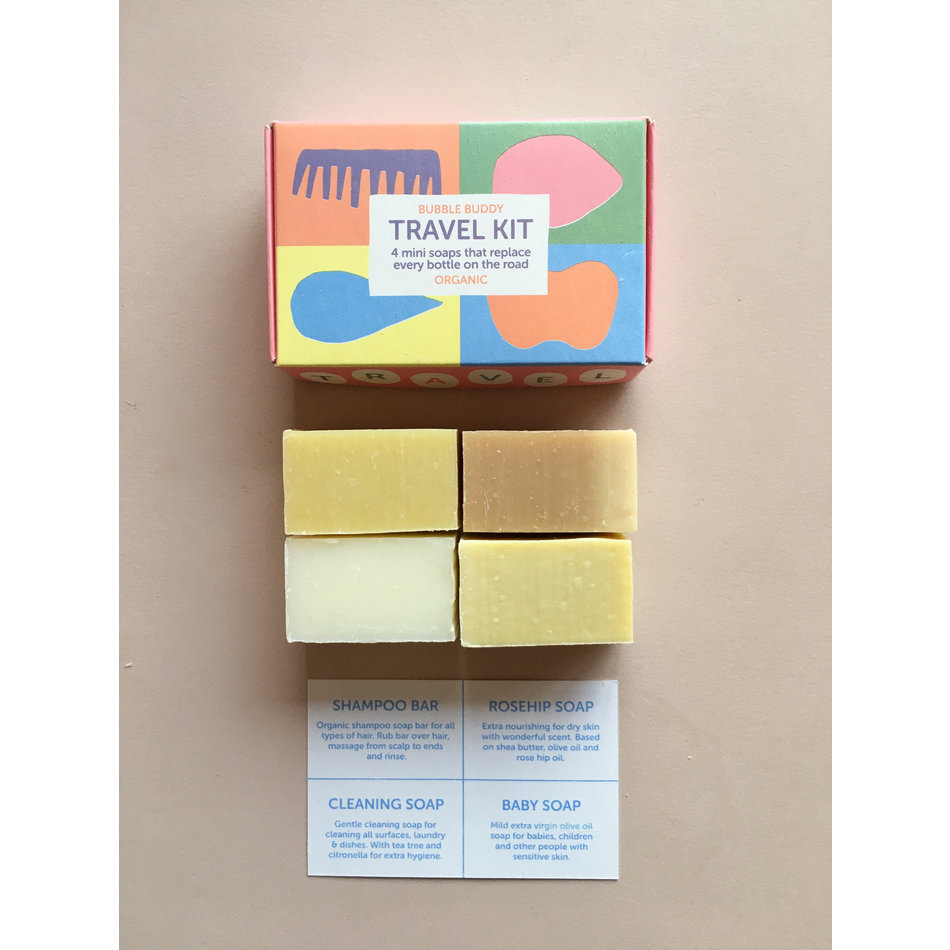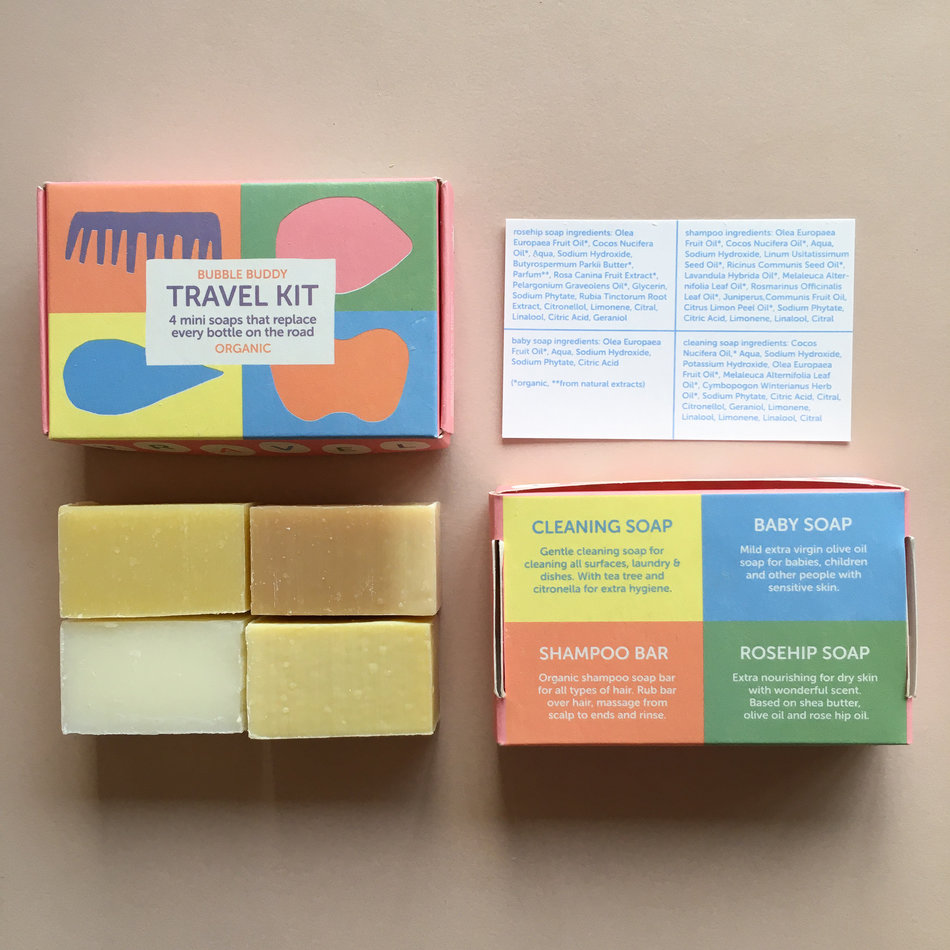 travelkit met 4 stukken zeep (cleaning soap, baby soap, shampoo bar, roseship soap)
DETAILS
With this kit you can try out all the Bubble Buddy soaps we make. A small shampoo bar, a baby soap for sensitive skin, a cleaning bar for all surfaces of the home and piece of luxurious rosehip soap. Use the bars as samples at home, a perfect small gift or take them on the road lightweight and enough for a two week holiday.
Cleaning soap bar: Gentle household soap for cleaning, doing dishes, laundry, and hand lathering.
Hand made with extra virgin olive and coconut oil. With tea tree and citronella essential oil for extra hygiene and fresh scent.
Use to lather your hands and safely clean all surfaces of your home, dishes, and laundry. Use Bubble Buddy or a grate to make so some flakes that easily dissolve in warm water for soap suds. Or make your own liquid soap by grating up the bar and cook it with 600 ml water, leave to cool down, mix and store in glass jars. Safe for children and pets, no harming ingredients.
Baby soap bar: Mild extra virgin olive oil soap for babies, and other people with sensitive skin.
Cold saponified with only organic extra virgin olive oil. Free from fragrances and petrochemical ingredients. Suitable for very sensitive skin, baby skin, face and body.
Mild enough to use daily, avoid contact with eyes, when in contact rinse with water. After use, store in a dry place like Bubble Buddy.
Shampoo soap bar: For all types of hair including facial hair, armpits, pubes, and hairy toes.
Hand made with extra virgin olive-coconut and flaxseed oil, with essential lavender, juniper, and lemon oil for a great scent.
Rub bar over hair, massage from scalp to ends, repeat until foam appears, and rinse. Suitable for all hair types and body. After use, store in a dry place.
Rosehip with shea butter soap bar: Extra nourishing for very dry skin with a wonderful scent. Based on shea butter, olive oil, and rosehip oil.
Use under the shower or in the bath, suitable for body and face. Nourishing for very dry and mature skin. After use, store in a dry place.